Hello and welcome to my Nursery. All the dolls here have been successfully adopted. If you wish to discuss a custom order then please do not hestitate to contact me on the email link at the bottom of the page.

Prices start at £250 depending on what sculpt of doll. A deposit is required on placing an order for a custom baby.

Michael

Lilah

Ruby

Sam

Lilah

Elly Anna

`

Mary

Emma

Ruby

Poppy

Rebecca

Emily Grace

Lucy May

Clarissa

Evie

I do also offer a service of repairing reborn babies. Unfortunately there are times when a baby is purchased and they are a disappointment to their new mommy.

This service involves a full repaint and reroot for such babies.

Price on application as you can appreciate all repairs are unique and some dolls require more hours of repair than others.

When choosing a Reborn Artist look to see how much experience they have and customer recommendations are worth their weight in gold. Customer Service should be any Reborn Artists priority. When ordering a custom baby make sure your instructions are clear.

I am an experienced Reborn Artist with over 8 years experience and pride myself on excellent customer service and have very many satisifed mommy's who have adopted my babies.

When choosing a quality reborn take some time to research the Reborn Artist and look for long established Guild Memberships that way you avoid dissapointment.
If you would like to contact me click the link below.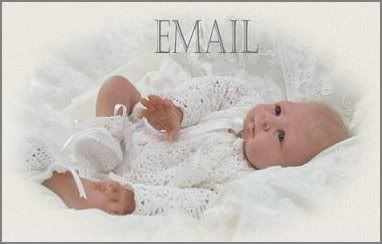 Copyright © Serene Dreams Nursery 2009